In a groundbreaking announcement during INBOUND23, HubSpot unveiled its latest innovation – Commerce Hub. Commerce Hub, HubSpot's newest package of products, features a diverse collection of B2B commerce tools, including cutting-edge digital payment platforms. This game-changing addition to the HubSpot ecosystem promises to transform the landscape of e-commerce by simplifying complex commerce operations and providing businesses with a unified platform to manage payments, quotes, invoices, and product libraries seamlessly.
Commerce Hub: A Strategic Move for E-Commerce Excellence
HubSpot's Commerce Hub isn't just an update; it's a strategic move that underlines HubSpot's unwavering commitment to empowering businesses in the dynamic world of e-commerce. Whether you're a startup looking to establish your online presence or an enterprise seeking streamlined solutions, Commerce Hub offers versatile features designed to enhance efficiency and elevate the customer experience.
Exploring the Power of Commerce Hub:
Let's discover the range of commerce products that were once offered via HubSpot Payments but have now found their place within Commerce Hub.
Quotes: HubSpot Quotes simplifies the process of creating quotes for products and services, streamlining CPQ (configure, price, quote) processes and facilitating the creation of standard or customized quotes.
Payment Links: Create payment links to share with customers, enabling easy one-time purchases or recurring subscriptions.
Automated Billing: Bid farewell to paper checks and manual follow-ups with HubSpot's automated billing, allowing you to collect secure ACH or card payments, automate recurring payments, and gain insights into customer payment activity.

Products Library: Easily manage the goods or services you offer by establishing a comprehensive product library. This ensures efficiency, accuracy, and in-depth insights into your sales operations.
New Features in Commerce Hub
Commerce Hub introduces two exciting features to optimize revenue efficiency: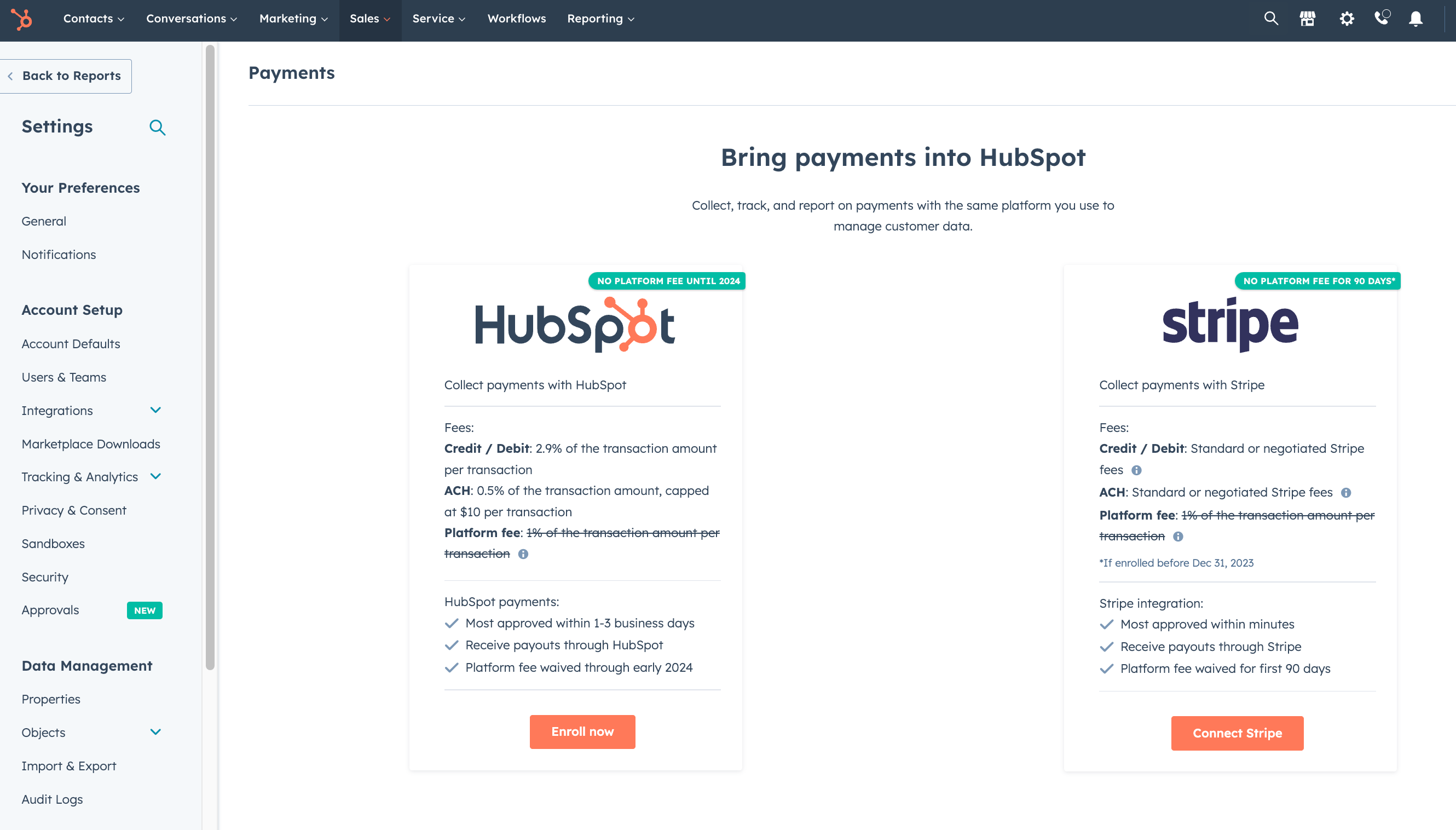 Stripe Payment Processing: Now, Commerce Hub offers flexible payment processing with your existing Stripe login, allowing customers to use all the tools of Commerce Hub without switching payment processors.
Invoices: HubSpot payments merchants can now create native invoices, speeding up the sales process and reducing the risk of errors. Invoices can be paid via HubSpot payments or Stripe processing and can also be marked as paid manually.
Key Benefits of Invoices in Commerce Hub:
Get paid faster: Expedite payment collection with Commerce Hub's Invoices feature.

Streamlined invoicing: Bill your customers effortlessly using native invoicing capabilities within your CRM.

Automated actions: Implement invoice-based workflows to reduce manual tasks and errors.

Revenue reporting: Access robust reporting tools to gain insights into revenue streams, aiding informed decision-making.

HubSpot's Commerce Hub represents a comprehensive solution designed to meet the diverse needs of modern commerce. With its seamless integration with Stripe for flexible payment processing and revolutionary native invoice generation, Commerce Hub is set to reshape how businesses approach e-commerce management. From HubSpot payments and quotes to payment links and automated billing, Commerce Hub is poised to become an indispensable tool for businesses striving to thrive in the e-commerce space. Explore the potential of Commerce Hub and take your e-commerce operations to new heights.
Ready to Transform Your E-Commerce?
If you're uncertain about where to begin with Commerce Hub, fret not. Origin 63, as your dependable HubSpot Diamond Agency and a proud member of the HubSpot Solutions Partner Program, specializes in HubSpot day in and day out, and we're here to assist you in maximizing your HubSpot setup. We'll collaborate closely with you to define your quoting, invoicing, and payment procedures during a customized discovery session.
Opt for Commerce Hub with Origin 63 to enhance efficiency, revolutionize customer interactions, unlock fresh opportunities, and seamlessly incorporate Stripe for adaptable payment processing—all while bidding farewell to laborious invoicing. Reach out to us today for a one-on-one consultation, and seize the chance to reshape your e-commerce approach with Commerce Hub.